Turmeric is ground from the root of the Curcuma Longa L. plant (see picture below), a member of the ginger family, which grows wild in the Himalayas and across South Asia. This yellow/orange spice plays a central role in the cuisine in those areas, giving the traditional dishes of these regions their characteristic yellow colour. This spice has been a component of the Ayurvedic Medicinal Systems of India, China, Tibet and the Middle East for over 2000 years, and recently has come under intense scrutiny by medical researchers astonished by the healing properties of some of its constituent compounds.
Curcumin is the primary curcuminoid class found in turmeric and gives it its characteristic orange-yellow colour. Only around 2-6% of raw turmeric contains these curcuminoids which are concentrated in the rhizome, with the three primary ones being curcumin, demethoxycurcumin and bis-demethoxycurcumin. These polyphenolic compounds (especially the curcumin)have powerful antioxidant, anti-inflammatory (through the down-regulation of NF-kB and COX-2) and anti-pathogenic properties, which give turmeric its health-giving properties. These protective compounds are so effective that they are currently the focus of a huge amount of scientific research.
The main problem with curcumin is that it has very poor oral absorption due to its low water solubility and sensitivity to stomach acids. And the tiny amount that is absorbed is quickly metabolised in a process called glucuronidation which makes it water-soluble and therefore easily for the body to eliminate through the kidneys and bile. As a result, the full benefits of curcumin are not realised — too little is absorbed and it stays in the body too short a time.
A solution to this problem has been found by finely mixing the curcumin with lipids, as curcumin is fat-soluble. This vastly increases absorption by having the lipids carry the curcumin into the body, increasing bioavailability. There are several such methods and technologies, and they vary considerably in their effectiveness.
In the last two generations of our superlative AlphaCurcumin(R) complex, we were using such methods to ensure that our customers always had access to the most bioavailable curcumin. The first generation used a powerful curcumin extract mixed with curcuminoid oils that claimed an increased absorption of 7x or 700%. The second used a proprietary phytosomal phospholipid-curcumin complex with claims of increased absorption by 29x (2900%) or more. We thought this was the ultimate at the time, and then we found Longvida® Optimized Curcumin that blew everything else out of the water. Not only does it have even higher absorption including to the brain, it also stays in the system longer whilst effectively distributing its potency throughout the body.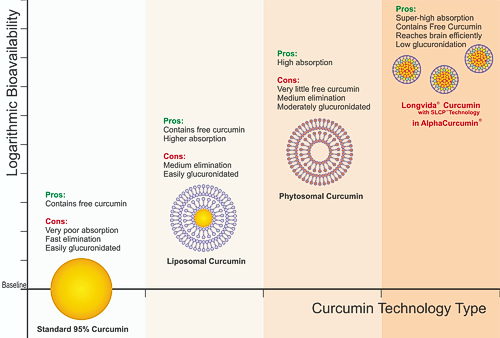 When we discovered this new turmeric extract, we just knew we had to update our formula so that AlphaCurcumin Plus could remain the best of the best.
*     *     *
In our new launch AlphaCurcumin® upgrade, we have swapped out the 2nd generation phytosomal curcumin with a new cutting-edge extract that is significantly more effective — Longvida® Optimized Curcumin.
What is so special about Longvida® Optimized Curcumin?
Normal curcumin extracts rapidly degrade in the stomach and intestines in processes called glucuronidation, a process which makes the curcumin inactive and easier for the body to eliminate through the kidneys and bile. This means that even the highest quality curcumin extracts are inefficiently absorbed into the body and rapidly eliminated — on average half of what is absorbed is gone within 2 or 3 hours. This means less protection over less time.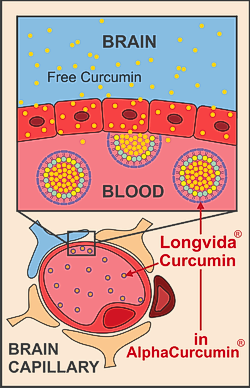 Longvida® Optimized Curcumin was developed by neuroscientists at UCLA using a patented* delivery technology called Solid Lipid Curcumin Particle (SLCP) Technology. SLCP™ Technology gently coats the curcumin with a specific combination of lipids to form nano-scale lipid capsules or micelles. These micelles are like tiny solid diving bells that protects the curcumin in its journey into our bodies, allowing it to efficiently pass through cell barriers, including the blood-brain and blood-retinal barriers, bringing the benefits of curcumin throughout the body. (In fact, this curcumin was specifically developed by the neuroscientists to bring the full benefits of curcumin to the brain.)
This unique structure of the SLCP curcumin means that it is transported through the lymph and not the blood, allowing it to largely bypass liver metabolism and stay in its free unglucuronidated form (unlike its inactive metabolised form). This ability for Longvida® curcumin to stay in the body has been measured at 2.5 to 3.75 times longer than standard curcumin. In other words, Longvida® curcumin is stronger for longer, but also in more places such as the brain.
The SLCP Technology used for this product means that the curcumin stays in its active (unglucuronidated) free-form and this is especially important because it is this lipophilic "free curcumin" that has the ability to pass through the blood-brain and blood-retinal barriers, bringing the benefits of curcumin to where it is often needed the most. But once the curcumin is metabolised or glucuronidated, that ability is unfortunately lost. So other curcumin brands that do not use SLCP Technology to protect the curcumin, even the phytosomal phospholipid ones, tend to have much higher glucuronidation and a much lower percentage of actual free curcumin, which means that what is absorbed is less active and is unable to cross the blood-brain barrier.
The result is a curcumin extract MANY TIMES more effective than other curcumin brands: 95x more bioavailable than standard 95% curcumin extract using AUC testing method; 67x more bioavailable than the standard using Cmax testing; and 285x more bioavailable than the standard using AUC normalized testing.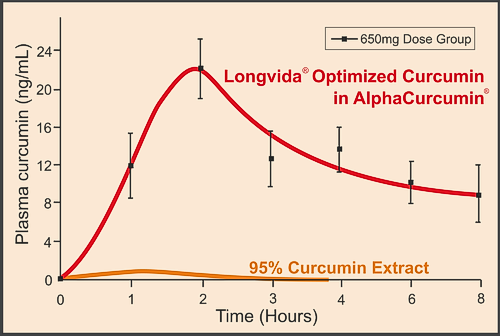 So it is not just absorption that is important, but how much actual "free" curcumin ends up in the body. So brands may claim high absorption, but if they do not deliver free curcumin but some other form such as phospholipid curcumin, they are not as beneficial.
At The Really Healthy Company, we go even further. We add enzymes, quercetin and algae in order to enhance further the anti-inflammatory benefits of this curcumin. And we do so without using unnecessary excipients and fillers. The result is a supplement that is superior to those that contain curcumin alone.
So if you want the optimum benefits of curcumin, AlphaCurcumin® is the one to go for. Nothing else comes close.
Food supplement name: AlphaCurcumin Longvida Curcumin Complex
Used nutritionally for: Antioxidant protection, prostate support, nervous system support, inflammatory conditions, joint support, allergies, hayfever
Available size: 60 veg caps
Directions: Take 2 capsules a day, preferably at mealtimes, or as directed by a health practitioner.
Contraindications: If you are on blood thinners, check with your doctor before taking curcumin supplements. Do not take if hypersensitive to any of the ingredients. Theoretically, concurrent use of blue-green algae might interfere with immunosuppressive therapy. Blue-green algae might stimulate the immune system. If pregnant or breastfeeding' it is always best to consult a health professional before taking this or any other product.
Allergens & potential side-effects: May very occasionally cause diarrhoea and nausea if taken at high doses. Take with meals if this occurs. Contains no common allergens.
Dietary information: Suitable for vegetarians and vegans
Suggested combinations: Combine with ProstaSol, Imupros and BioBran for prostate support. Combine with Imusan and BioBran for breast support.