Royal jelly has been recognized for its remarkable health-giving properties for many thousands of years. Even, the Egyptian Pharaohs would take it to ensure long and healthy lives. And today, the ever-youthful 92 year-old Margaret Weesz supplies equally high quality royal jelly. Weesz's royal jelly is LIVE, FRESH and has a British laboratory Certificate of Purity.
Fresh royal jelly is a powerhouse of nucleic acids (RNA and DNA), enzymes, vitamins (A, B, C, C and E), minerals (potassium, calcium, magnesium, zinc and manganese) and gelatine (a precursor of collagen, which might explain why those who take it believe it believe it keeps them vital and youthful). It also contains globulinic acid (gamma globulin). This concentrated and unique nutritional profile means that this elixir has a protective effect in the body, helping to promote health and immunity. This is important in an age where humans are crowded together in planes, trains, coaches and cars, where optimum immune function is vital. Perhaps it is no coincidence that royal jelly is actually a power-packed glandular secretion made by worker bees for the sole provision of the Queen Bee to allow her to live 40 times longer than the workers and to lay up to 2,000 eggs a day! (All bee larvae are fed royal jelly for the first three days of their lives, but only the queen remains on it for her entire life.) And this is why Royal Jelly is popular with high profile stars such as Jerry Hall and of course the late Barbara Cartland.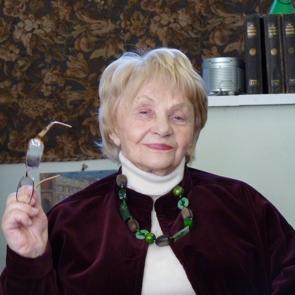 Mrs. Weesz, who is a doctor's widow, swears by her live royal jelly, attributing it to her astonishing health, vigour and youthful appearance. Looking far younger than her 92 years (this photo was taken on 3/2/11), Weesz is a walking advertisement for the benefits of this elixir. This sprightly nonagenarian still works in her shop every day, as she has done for the past forty five years, and still does the pruning during the weekends at her Sussex home!
Cornucopia's Live Royal Jelly is available in a small glass 20g bottle, which should last approximately one month.
Directions: Take a ¼ tsp of royal jelly on the tongue first thing in the morning and followed with a warm drink.
Storage: Please note that this product should be refrigerated. (It is fine out of the refrigerator for a few days during delivery, but otherwise it should be kept cold for longest life.)
Bulk Discount: Buy 6+ of this product and the unit price will be reduced by 15%.