Research suggests tall women may have an increased risk of cancer.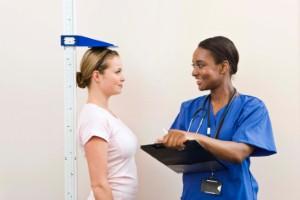 Women who are taller than average may have an increased risk of developing cancer following the menopause, a new study suggests.
US researchers looked at data on almost 21,000 postmenopausal women who had enrolled in a study called the Women's Health Initiative between 1993 and 1998.
Participants were aged between 50 and 79 years at the start of the study and provided information on their height, weight and exercise levels, before being followed for the next 12 years.
The researchers found that for every 10cm increase in a woman's height, her risk of developing cancer rose by 13 per cent, including a 13-17 per cent increase in the risk of melanoma skin cancer and cancers of the breast, ovary, endometrium and bowel.
Each 10cm increase in height was also associated with a 23 to 29 per cent increase in women's chances of developing cancers of the kidney, rectum, thyroid and blood, according to a report in the journal Cancer Epidemiology, Biomarkers & Prevention.
These trends remained after factors such as age, weight, education, smoking status, alcohol consumption, hormone therapy usage and cancer screening history had been taken into account.
"We were surprised at the number of cancer sites that were positively associated with height," said Dr Geoffrey Kabat, senior epidemiologist at the Albert Einstein College of Medicine at Yeshiva University in New York.
Dr Kabat revealed that more of the women's cancers were associated with height than with body mass index (BMI), a known risk factor for several forms of the disease.
"Ultimately, cancer is a result of processes having to do with growth, so it makes sense that hormones or other growth factors that influence height may also influence cancer risk," he added.
While women cannot do anything about their height, those who are taller than average may want to take steps to ensure their immune system is as strong as possible so that their body may be better equipped to fight cancer.
A good product to use is BioBran MGN-3, which helps to maintain a strong and healthy immune system by providing glyco-nutritional support to our white blood cells.
Women - and indeed men - may also be interested in the hormone-balancing properties of Indole-3-Carbinol, a natural compound extracted from cruciferous vegetables such as broccoli.
This high-quality supplement helps to maintain optimum hormone balance and supports the functions of the breasts, prostate and other reproductive organs.