New research has revealed that calcium and vitamin D supplementation work together to influence bone health of postmenopausal women.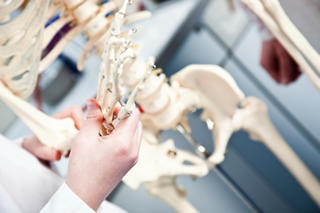 A new study looking into how postmenopausal women's bone health is affected by both calcium and vitamin D intake has concluded that supplementation of the two - or of calcium alone - could improve bone health.
However, it suggested both that vitamin D supplementation alone may not do anything in terms of bone health and that taking excess supplementation above the recommended daily allowance of the vitamin did not provide any additional benefits.
The 159 postmenopausal women in the study were divided into four groups - one received a combination of the two nutrients, another took 1,200 mg of calcium every day, the third was given 4,000 IU of daily vitamin D, while the final group received a placebo. The groups were studied for six months.
Less bone turnover was detected in the women who took daily calcium supplements, leading researchers to conclude that taking the mineral could be boosting their bone health. Interestingly, the vitamin D supplement alone had no effect on biomarkers for bone turnover - also known as bone remodelling or bone metabolism, which refers to the process where bone tissue that has reached maturity is removed and replaced.
According to figures, in a person's first year, the entirety of the skeleton will be completely replaced, while in adulthood, this happens at a rate of about ten per cent per year.
"Vitamin D and calcium interact to suppress bone turnover by decreasing parathyroid hormone levels," concluded lead author on the study Dr John Aloia from Winthrop University Hospital in Mineola, US.
Parathyroid hormone is produced by the parathyroid glands and is charged with regulating the amount of calcium and phosphorus in the body.
The fact that calcium supplementation aids bone health in this way was described by the expert as "beneficial in women who are vitamin D deficient".
However, those who are persuaded to up their calcium intake based on these findings should take heed of a warning by the lead author, who said: "Women do need to be cautious about the possibility of vascular side effects from too much calcium and should consult their physicians about whether or not their diet is adequate or if they should take supplements at all."
Calcium is in fact the most abundant mineral in the body, fulfilling several important roles. Not only does it help to build (and rebuild) strong bones and teeth, but it is also involved in aiding muscle contractions and safeguarding the function of blood clotting. Anybody who does not receive enough calcium could be putting themselves at a greater risk of developing osteoporosis further down the line.
Similarly, a lack of vitamin D can lead to a condition called osteomalacia in adults, which presents via bone pain and tenderness.
Women who are perhaps deficient in vitamin D and who would like to give their bodies a boost might be interested in a supplement such as Vitamin D3 Serum by Premier Research Labs available from The Really Healthy Company.