Research suggests that vegetarians tend to have better gum health than meat-eaters, although they may be at risk of tooth decay if they fail to include enough vitamin D and calcium in their diet.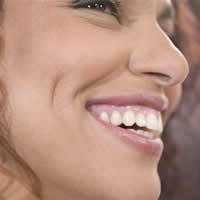 Meat-eaters may need to pay closer attention to their oral health after a study by German scientists found that vegetarianstend to have healthier gums.
Researchers at Hannover Medical School recruited 200 patients - including 100 vegetarians and 100 meat-eaters - in order to assess their dental health.
Analysis revealed that vegetarians were less likely to have bleeding gums, loose teeth and signs of inflammation than non-vegetarians, as well as having better overall oral hygiene.
People who led a meat-free lifestyle also tended to have fewer missing teeth, even though they visited their dentist less frequently.
Publishing their findings in the European Journal of Clinical Nutrition, the study authors concluded that vegetarians had "better periodontal conditions" than meat-eaters.
They also noted: "It should be considered that vegetarians are not only avoiding meat in their nutrition but are also characterised by an overall healthier lifestyle."
Dr Nigel Carter, chief executive of the British Dental Health Foundation, claimed that a vegetarian diet can be beneficial for oral health.
"Fresh fruit and vegetables contain antioxidants, which have been proven to help prevent gum disease and reduce the risk of mouth cancer," he explained.
However, the expert pointed out that some vegetarians develop vitamin D and calcium deficiencies if they fail to consume enough of these nutrients, causing their teeth to soften and become more vulnerable to tooth decay.
Indeed, the German scientists found that rates of tooth decay were higher among vegetarian study participants.
"For this reason, it is important to mention if you have a vegetarian or vegan lifestyle at your next check-up," Dr Carter advised.
People with concerns about their oral hygiene may want to consider adding a natural product called Good-Gums to their daily dental routine.
This all-natural powder contains a number of different herbs and minerals that can help to optimise gum health and is designed to complement regular brushing and flossing.
Ingredients include baking soda, French grey sea salt, vitamin C, myrrh and peppermint, while preservatives, artificial colourings and flavourings, harsh abrasives and fluoride are all noticeably absent.
Two other products that may help to promote good oral health are Vitamin D3 and AlphaCurcumin Plus, the former because of its important role in maintaining strong teeth and the latter thanks to its antimicrobial and antiseptic properties.