Toxins in children's diets could be putting them at risk of developing cancer in later life.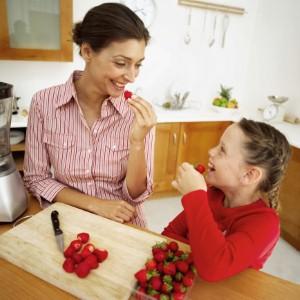 Pesticides and toxins used in growing fruit and vegetables could be putting young children at risk of developing cancer later on in life, according to new US research.
A study of pre-school children showed that they were particularly prone to being exposed to dangerous compounds, including arsenic, dieldrin, DDE and dioxins.
Pesticide exposure was particularly high in tomatoes, apples, peppers, peaches, grapes, lettuce, strawberries, spinach, green beans and celery.
Study leader, Dr Rainbow Vogt, explained that it was important to focus on children, because early exposure "can have long-term effects".
He said: "We wanted to understand the cumulative risk from dietary contaminants. The results of this study demonstrate a need to prevent exposure to multiple toxins in young children to lower their cancer risk."
The research highlighted how it is particularly important to reduce exposure to such pesticides and toxins in children, as they tend to be more vulnerable because their brains are still developing.
However, study co-author, Professor Deborah Bennett, explained that everyone should still be eating fruit and vegetables, but "we just need to be more careful in how we approach them".
Speaking to Mail Online, Eleanor Barrie, Cancer Research UK's science manager, argued that the study was solely US-based and emphasised the fact that the levels of pesticides found in fruit and vegetables are "usually very low".
She also highlighted that "in fact, eating a lot of fruit and vegetables actually reduces the risk of some types of cancer, so it's a good idea to get your five-a-day".
Some pesticides can be removed through washing food and lightly scrubbing it. However, to help fight toxins, the superlative full-spectrum AlphaGuard Plus antioxidant complex could be of assistance.
Through its highly effective all-in-one formula, infusing nutrients and complexes such as vitamin C, grape seed extract, curcumin extract, vitamin E and beta-carotene together, users can seek to boost their health and wellbeing with this unique combination.
Take one or two capsules a day with a meal to help prevent excessive oxidation in the body and combat everyday toxins.