The Health Service Ombudsman has acknowledged identifying sepsis early is difficult.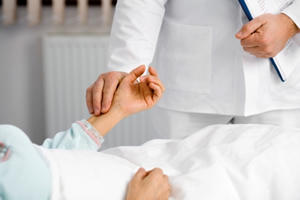 Identifying early signs of sepsis is difficult, one of the UK's healthcare officials has acknowledged.
A new report by the Health Service Ombudsman pointed out that 37,000 people with the condition die every year and that more needs to be done in order to save lives.
However, head of the body Julie Mellor admitted that spotting the early signs of sepsis is "not easy".
Sepsis is caused when the body overreacts to an infection, with the immune system going into "overdrive" - in the NHS's words.
This can lead to blood clotting and widespread inflammation, with symptoms including fast breathing, an accelerated heartbeat and chills, as well as a fever and a high temperature.
Given that the condition can be hard to spot, Ms Mellor has called on the NHS to improve the quality of care offered to people with the condition and to act upon complaints that have been received in the past.
The expert said if the healthcare sector can learn lessons from previous cases, it can "work to improve diagnosis and provide rapid treatment", which could in turn cut the number of fatalities.
Dr Mike Durkin, director of patient safety at NHS England, has welcomed the report for shining a spotlight on sepsis.
He insisted the health service will use its findings to work with hospitals and GPs to cut the number of sepsis-related deaths.
"This report and guidance will help us to build on the work that is already in place to emphasise the importance of education, early detection and prompt treatment," he commented.
People who would like to help their immune system to stay as healthy as possible might consider taking a healthfood supplement which targets just that, such as AlphaClear available from the Really Healthy Company.
The liquid complex not only boosts the immune system, but it also helps with cell protection, detoxification process and energising people's metabolism - in addition to boasting anti-ageing properties.