Early research suggests that grape seed extract may help to treat rheumatoid arthritis.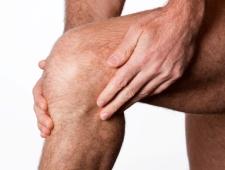 People with rheumatoid arthritis may benefit from taking grape seed extract, a natural plant-derived extract that is often included in high-quality antioxidant supplements.
Researchers at King Saud University in Saudi Arabia recently conducted a study to see whether or not grape seed proanthocyanidin extract might be beneficial for treating rheumatoid arthritis, an autoimmune disease that affects over 580,000 people in England and Wales alone.
The team carried out a series of experiments on arthritic mice, which were prone to the chronic inflammation, joint malformation and disability that are associated with rheumatoid arthritis in humans.
Mice were treated for 14 days with 25, 50 or 100 mg/kg of grape seed extract or with saline solution (the 'placebo') when they were in the early stages of arthritis.
After two weeks of treatment, the researchers assessed the animals' blood and joints.
They discovered that mice treated with grape seed extract showed a "substantial" reduction in levels of substances associated with arthritis-related inflammation, compared with those given the placebo.
It is thought that grape seed extract's apparent ability to modify the balance of immune cells called T cells may help to explain its anti-arthritic activity.
Publishing their findings in the journal International Immunopharmacology, the study authors noted that grape seed extract is already considered to have protective effects against a number of diseases.
They concluded: "Our results suggest that [oral] treatment with grape seed proanthocyanidin extract ... might offer a promising alternative/adjunct treatment for rheumatoid arthritis."
Anybody interested in taking a grape seed extract supplement to see if it might help alleviate symptoms of rheumatoid arthritis may be interested in the AlphaGuard Plus antioxidant complex from Really Healthy. Not only does the formula contain grape seed extract, but also a whole host of other supplements and antioxidant nutrients such as vitamin C, green tea extract and zinc to boost all-round health.
Similarly, Klamath Blue Green Algae complex may also help those with arthritis. With the condition sometimes referred to as an acid condition, the alkalizing effect of this formula could help to ease painful symptoms. KBG Algae from Upper Klamath Lake is one of the fastest growing items in the health food market, boasting an array of other benefits. These include improving the body's ability to generate cells, purify the blood and to detox, amongst other things.