The popular painkiller could improve your ability to exercise, research has found.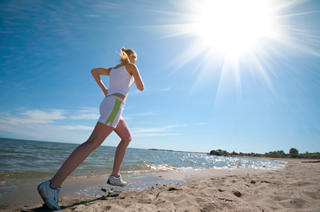 While paracetamol may traditionally offer a source of pain relief to those suffering illness or injury, a new study claims it could also have a positive effect on exercise performance.
Research published in the September issue of Experimental Physiology indicates that the headache pill could also help your body to cope better with the heat generated through running and other physical activities.
According to the study, paracetamol can provide a notable boost to the amount of time an individual can spend exercising in higher temperatures.
The data indicates that the drug works by reducing core body temperature, which traditionally increases during extended periods of exercise.
By reducing internal heat levels, it is suggested that tolerance levels are, in turn, improved.
These conclusions were reached following the completion of tests involving a group of healthy male subjects who were divided into two distinct groups.
One group were provided with a single dose of paracetamol each and then asked to complete a cycling task in hot conditions.
Meanwhile, another group were fed a placebo and asked to complete the same bike-based task. Both were then assessed during the exercise with skin and core temperature measured, recorded and compared.
The study was led by Dr Lex Mauger from the University of Kent's School of Sport and Exercise Sciences who was keen to investigate the potential behind the painkiller.
"It is important now to try to isolate how paracetamol reduced participants' body temperatures during exercise," he said.
The news comes after manufacturers moved to reduce the size of standard paracetamol packs from 25 to 20 tablets, as part of a renewed focus on user safety.
Keen athletes who are looking to boost their energy or aid the recovery process after a hard session on the track might be interested in taking KBG Algae, available from Really Healthy. It is one of the densest greenfoods available on the market, packed full of vitamins, minerals and nutrients which the body needs in order to perform well when exerted.
Furthermore, the anti-inflammatory AlphaCurcumin - also from the same supplier - could be beneficial for anyone prone to swollen joints, whether as a result of exercise or otherwise.