Research has recently proved that organic fruits and vegetables are twice as nutritious as their non-organic counterparts.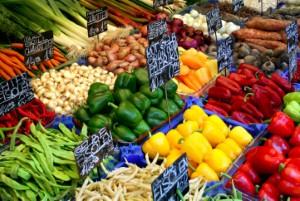 Researchers at Newcastle University have undertaken a meta-study of 343 peer-reviewed nutritional studies on organic produce and concluded that organically grown fruit and veg is hugely more nutritious — with 19%-69% more antioxidants.
This of course comes as no surprise to many of you: it is obvious that crops free from toxic cancer-causing chemicals and mineral-poor chemical fertilisers, are going to produce food that is far healthier for the body. But the supermarket food industry is all about presentation and profit margins, with little regard to the "hidden" nutritional and toxin content. As a consequence of modern food practises, our bodies are becoming increasingly malnourished (despite sufficient calories) and toxic. This is pushing up cancer rates and neurological problems. (Incidents of cancer have increases so rapidly that shortly one in two of us will have cancer at some point in our lives!)
The solution is obviously to move towards food grown in nutritious soil without poisons, but unfortunately organic food is seen as a luxury rather than a necessity, and it has a reputation as a niche market product for people with money to spare, rather than a necessity for increasing our health and decreasing the harm we are causing on the planet.
If you are unable to get organic food for whatever reason, avoid buying fruits and veggies which you cannot skin or peal (potatoes however have high pesticide residues). Foods with the highest pesticide residues include the following:
apples
strawberries
spinach
grapes
celery
peaches
nectarines
cucumbers
cherry tomatoes
potatoes
sweet bell peppers
kale
summer squash
Therefore, these vegetables should be purchased organic or avoided as much as possible.
And it is also strongly recommended not to eat non-organic meat because it can be full of bacteria, viruses, parasites, hormones, antibiotics and other additives. Even organic meat can share some of these problems and is not quite as healthy or ecological as presented.
As the food industry sees that more and more customers are selecting organic food, and of course avoiding GMO frankenfoods, as a supply-and-demand industry it will start to clean up its act.
If you are concerned about nutritional gaps in your diet and want to be able to fill them without adding to your toxic load, organic Klamath Blue Green Algae is one of the best superfoods you can take. What is more, it can also help to reduce the body's toxic load.