The latest research suggests organic diets may be beneficial for longevity and fertility.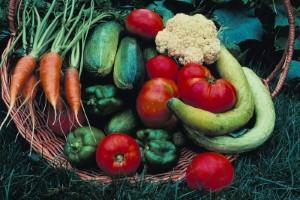 An organic diet appears to be associated with better health outcomes than a conventional one, according to a new study in the journal PLoS One.
Scientists at Southern Methodist University in Dallas, US, compared the effects of different dietary regimes on fruit flies in the laboratory.
Flies were fed extracts from organic and non-organic potatoes, soybeans, raisins and bananas to see if there were any differences between the two diets in terms of lifespan, fertility, stress and starvation resistance.
The team's results show that flies fed on organic produce performed better on a number of health outcomes, including longevity and fertility, than those given a conventional diet.
The study authors wrote: "The data demonstrated that flies raised on organic food extracts by-and-large performed better on the majority of health tests."
Principal investigator and assistant professor Dr Johannes Bauer said: "In the majority of our tests of flies on organic foods, the flies fed organic diets did much better on our health tests than the flies fed conventional food.
"They lived longer, had higher fertility and had a much higher lifetime reproductive output."
Ria Chhabra, a student researcher who led the experiment, said that more research is needed to explain the apparent benefits of organic diets, but claimed the study "is a start toward understanding potential health benefits".
The research is certainly not the first to suggest health benefits of organic food, with previous studies showing elevated nutrient content and lower levels of pesticide contamination in fruit and vegetables produced in this way.
Some studies have failed to find any noticeable benefits, although Dr Bauer believes this may be due to the specific food items used in the experiments.
Those who are keen to adopt an organic lifestyle will also want to consider this when choosing food supplements.
An ideal choice could be KBG Super-3, a powerful vegan-friendly blend of three algae species - Organic Klamath Blue Green Algae, USP Spirulina and Super Chlorella - that is supplied by The Really Healthy Company.
Together, these three algae provide a unique array of green pigments, carotenoids, proteins and other nutrients to support optimum health and vitality.