Scientists believe an experimental type of immunotherapy could help to treat advanced cancers.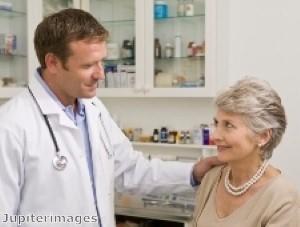 An investigational drug being tested in early clinical trials could one day help to treat patients whose cancer has spread around the body, researchers claim.
Scientists at Yale Cancer Centre in the US have been trialling the antibody drug, called MPDL3280A, as a potential new therapy for advanced or 'metastatic' solid tumours.
Whereas traditional cancer drugs target the tumour itself or attempt to cut off its nutrient supply, the novel treatment is an example of immunotherapy - an approach that aims to bolster the immune system to fight disease.
The drug blocks a protein called PD-L1 in cancer tumours, thereby preventing the protein from turning off the immune system's T-cells.
In doing so, the treatment enables the body's defences to resume normal activity and fight the cancer.
A phase-I clinical trial involving 140 patients with locally advanced or metastatic solid tumours found that treatment with the new type of immunotherapy helped to shrink tumours in patients with a range of different diseases, including lung, skin, kidney, bowel and stomach cancers.
All patients who responded to the novel drug experienced lasting benefits, with some still responding more than a year after commencing treatment.
Lead investigator Dr Roy Herbst, chief of medical oncology at Yale Cancer Centre, said he was impressed by the "extraordinary" response in cancer patients.
"Immunotherapy treatment is providing new hope for cancer patients," he claimed.
The findings were presented at the annual meeting of the American Society of Clinical Oncology in Chicago alongside a separate Yale study involving a combination of immunotherapy drugs.
Dr Mario Sznol, clinical research leader on the second study, remarked that scientists are "finally realising the promise of immunotherapy".
He added that the latest progress "will likely lead to even more significant advances in cancer treatment".
While novel immunotherapy drugs are no doubt exciting, these remain a long way from being used as routine treatments as they still require extensive clinical testing.
In the meantime, people who wish to bolster their immune system to fight off disease may be interested to learn about an effective natural immunomodulator that already has 20 years' worth of research behind it.
Biobran MGN-3, which is Supplied by The Really Healthy Company, is a glyconutritional food supplement that is made by breaking down rice bran with enzymes from the shiitake mushroom.
Clinical research published in peer-reviewed medical journals has shown that Biobran MGN-3 can stimulate immune cells, enhancing immune systems that have been depleted by illness, pharmaceuticals or a poor diet and lifestyle.