Food transit through the gut is regulated by intestinal bacteria a hormone called GLP-1, according to a new study.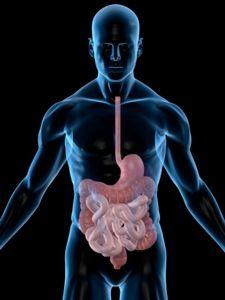 A study has highlighted the delicate balance of the intestinal microbiome in facilitating the transit of food through the gut.
"Food transit through the small intestine is a complex balancing act, in which the gut lining must be given time to absorb nutrients but without allowing pathogenic bacteria sufficient time to colonize the small intestine," explained lead author of the study Anita Wichmann, postdoctoral researcher at the Sahlgrenska Academy at the University of Gothenburg, Sweden.
"We have discovered that food transit through the small intestine is regulated by a specific hormone called GLP-1, which is linked to our glucose metabolism and appetite."
This knowledge is important as the process by which food moves through the intestine is how nutrients are absorbed, which the body needs for vital biological functions. By improving our understanding of how that happens, scientists can hope to realise new ways of boosting intestinal absorption of these nutrients, providing a potential avenue for improving treatment of malnutrition and other associated illnesses.
More specifically, the study - published in the journal Cell Host & Microbe - found that a decline of energy in the colon led to increased release of GLP-1, a hormone linked to appetite control and insulin secretion. It also revealed how the hormone is associated with how quickly food passes through the gut.
"We are continuously discovering new functions that are regulated by the gut microbiota, which highlight its incredibly important function for health and development of diseases," commented Professor Fredrik Backhed, who is heavily involved with investigating the links between the gut's microbiota and how metabolism works, and who led these investigations.
Further research published earlier this year showed that gut microbes could be closely associated with proper immune function and other health issues.
"The human gut plays a huge role in immune function," commented Dr Natalia Shulzhenko, assistant professor and physician in the Oregon State University (OSU) department of biomedical sciences. "This is little appreciated by people who think its only role is digestion."
According to the OSU research, health problems such as autoimmune disease and clinical depression may have their roots in a "failure to communicate" in the gut, meaning that treatment in the future may heavily rely on an assessment of individuals' gut microbiome.
"There's an increasing disruption of these microbes from modern lifestyle, diet, overuse of antibiotics and other issues. With that disruption, the conversation is breaking down," Dr Shulzhenko added.
The results of the study - which included scientists from both the College of Veterinary Medicine and the College of Pharmacy - have provided what scientists are describing as "an exciting target for therapeutic interventions".
Individuals looking to safeguard their intestinal health might be interested in a range of products available from the Really Healthy Company - such as Botanical Stomach Complex, BioBran MGN-3 or KBG Algae.
Biobran is in fact a great supplement for maintaining a strong and healthy immune system overall, not just focusing on the digestive tract, while KBG Algae presents a host of benefits and comprises vitamins and minerals in a form that is significantly more bioavailable to the body than many other standard food supplements.
Focusing on the digestive system specifically, Botanical Stomach Complex by Premier Research Labs is a broad-spectrum stomach and digestive support, which helps to balance the digestion process.