A study revealing high levels of lead in some rice products has highlighted the risks posed by heavy metals in our environment and food supply.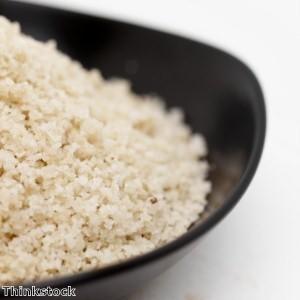 Scientists have uncovered high levels of lead in rice imported from certain countries by the US.
Researchers at Monmouth University in New Jersey measured the levels of lead in rice samples using x-ray fluorescence (XRF).
They found that average levels of lead ranged from 5.95 mg per kg of rice to 11.9 mg/kg, with some samples exceeding the US Food and Drug Administration's (FDA's) provisional total tolerable intake (PTTI) by 120-fold.
Rice imported from China and Taiwan typically contained the highest levels of lead, while samples from Italy, India, Thailand, Bhutan and the Czech Republic also contained higher-than-desirable amounts of the heavy metal.
The findings, which were presented at the American Chemical Society's annual meeting, are a concern as lead is known to act as a neurotoxin, impairing cognitive development and intellectual performance in children, as well as leading to high blood pressure, cardiovascular disease and calcium deficiency in adults.
Experts at the UK's Food Standards Agency insist that UK rice products do not pose a threat, saying that the data and levels quoted by the researchers are "much higher than those we have detected here in the EU".
However, with food products increasingly being shipped around the world, there are no doubt concerns about people's exposure to lead and other toxins through food, with agriculture and mining practices in many countries causing environmental contamination that enters the food chain.
Professor Tsanangurayi Tongesayi, who presented the research, said: "Such findings present a situation that is particularly worrisome.
"For infants and children, the daily exposure levels from eating the rice products analysed in this study would be 30 to 60 times higher than the FDA's PTTI levels. For adults, the daily exposure levels were 20 to 40 times higher than the PTTI levels."
While consumers have little control over the chemicals that arise in food, they may be able to combat their effects by taking a detox supplement.
Supplied by The Really Healthy Company, this product contains liquid zeolite - a naturally occurring mineral with a remarkable ability to absorb heavy metals and other toxins - and the powerful antioxidant alpha lipoic acid.
Together, these two ingredients work to detoxify the body and bolster the immune system, thereby helping to protect against an increasingly toxic world.
Those concerned about their intake of lead will particularly welcome the properties of zeolite, which has been used in traditional Asian remedies for over 1,000 years and is used to absorb heavy metals and toxins by the pharmaceutical industry.
Decades' worth of research has contributed to the increasing popularity of zeolite detox supplements in recent years, particularly in light of concerns about radiation leaks and other forms of environmental contamination.