It has been suggested that it may be beneficial for their unborn child if women exercise when they are pregnant.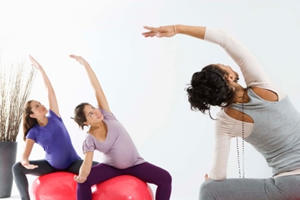 There are many things that women can do while pregnant that can help to safeguard the health of their unborn child - for example, not smoke, get plenty of sleep, drink lots of water and generally look after themselves.
Now, new research published in the journal Experimental Physiology has suggested that pregnant women should exercise when they are pregnant in order to boost the vascular function of their unborn child into adulthood.
"Our study was the first to demonstrate that maternal exercise during pregnancy significantly impacts vascular function in adult offspring," concluded the authors.
Specifically, by exercising, an expectant mother could improve the health of her child's vascular smooth muscle in particular. This in turn could help to lower the risk factor of a woman's offspring developing cardiovascular disease later in life.
Officially, pregnant women should already be carrying out around half an hour of moderate-intensity exercise on nearly every day of the week - if not, on all of them. Yet, there are some medical professionals who are not yet convinced of the benefits.
This research hopes to dispel any doubt that it is a good idea for pregnant women to get their heart rates up, perhaps by going for a light jog or by carrying out muscle-toning stretches.
"A second important aspect of the findings in our study is that previous research identified the endothelium, which is the single-cell layer lining all blood vessels, to be susceptible to foetal-programming interventions," commented Dr Sean Newcomer from California State University San Marcos, US and Dr Bahls of Universitatsmedizin Greifswald, Germany.
"Contrarily, we show that the vascular smooth muscle was significantly altered in adult offspring from exercise trained mothers," they added.
Now, they said, it will be essential that future research looks at coronary circulations and substantiates any claims about cardiovascular disease susceptibility.
Official guidelines outline which kinds of exercises are and aren't appropriate for pregnant women. For example, those which involve the woman lying flat on her back aren't recommended after 16 weeks, in particular, as the weight of the baby bump could press on the main blood vessel which is transporting blood back to the heart. This could make the woman feel faint.
Other forms of exercise that are advised against include contact sports, scuba diving (as the baby as no protection from the decompression), those at high altitude and activities that come with a high risk of falling, like horse riding.
Swimming could be a good form of exercise as the water will help with support the extra weight due to the pregnancy. Some pools may even host aquanatal classes with qualified instructors, which could be perfect.
Expectant mums looking for other ways to safeguard their overall health while pregnant may be interested in taking healthfood supplements as part of their diets, to ensure they are getting the recommended daily amounts of various essential vitamins and minerals.
A complex such as KBG Algae, available from the Really Healthy Company, could be a particularly suitable formula, as it contains a wealth of valuable nutrients, making it one of the most popular choices on the market at the moment.
As both a vegan and vegetarian source of essential nutrients, the supplement is an ideal broad-spectrum complex for future mums to take in order to ensure they are giving their growing baby all the vital building blocks that it needs for the best start in life.