Cardiff and Peking universities have been working together to explore the benefits to cancer patients of a Chinese herbal medicine.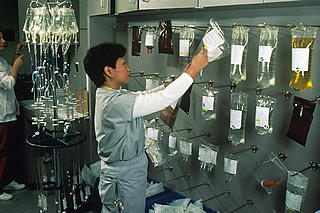 After collaborating for two years, Cardiff University and Peking University have made a breakthrough in how cancer patients may be treated in future.
Investigators have been exploring the potential benefits of a traditional Chinese medicine and how it could be used in conjunction with more conventional methods, such as chemotherapy, in order to see if the therapy had any place in the future of cancer treatment.
In an interview with the BBC, lead researcher Professor Wen Jiang from the School of Medicine at the Cardiff Institution - also the director of the Cardiff University-Peking University Joint Cancer Institute at Cardiff - described their findings as "ancient medicine, modern thinking".
The Chinese medicine in question is Yangzheng Xiaoji. It is made up of 14 herbs, whose action in being beneficial to cancer patients - something which had been shown in the past - was not known until this point.
Now, scientists have proved the remedy aids in blocking a biological pathway which enables cancer cells to spread.
Professor Jiang commented: "Although a few successes, most of the traditional remedies are short of scientific explanation which has inevitably led to scepticism - especially among traditionalists in the West."
However, new research such as this may serve to change the minds of those who do not believe that traditional, herbal remedies have any place in modern medicine.
The findings - presented at the European Cancer Congress 2013, which took place in Amsterdam between September 27th and October 1st - suggest that Yangzheng Xiaoji could be used alongside conventional, modern cancer treatment to formulate new and more innovative ways for medical professionals to proceed with cases of the disease.
Accordingly, it has been confirmed that clinical trials of this combined treatment have not only begun, but are also returning positive results.
The aforementioned investigation was funded by Cancer Research Wales and the Albert Hung Foundation.
"Traditional Chinese medicine where compounds are extracted from natural products or herbs have been practised for centuries in China, Korea, Japan and other countries in Asia," the expert went on to say, suggesting that perhaps it is time that the West paid more attention to the apparently tangible therapeutic benefits of such remedies.
While many may still remain unsure, it is worth noting that this is not the only research which has suggested herbal supplements and remedies may have a place in how we treat certain conditions in the future.
For example, an article published earlier this year in Neural Regeneration Research suggested that Chinese herbal medicine is safer and more effective when it came to treating vascular dementia than controls used in the study.
There are in fact many different natural supplements which people could take to give their health a boost. One which health-conscious individuals might be particularly interested in is Biobran MGN3, available from the Really Healthy Company. This is because it is one of the most effective formulas for maintaining a strong and healthy immune system.