Women lack a good understanding of the causes of facial ageing, a survey has found.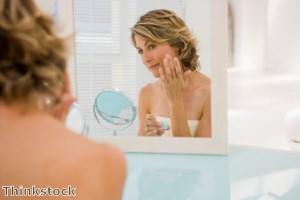 Most women are concerned about the impact of premature facial ageing on their appearance, but few have a good understanding of its causes, a study suggests.
Research funded by Allergan Medical Aesthetics questioned 500 UK women, aged 35 to 65 years, to determine their understanding of facial ageing.
The majority of respondents failed to identify loss of volume as one of the biggest contributors to an ageing face.
Loss of volume can lead to skin sagging and is even more likely to give a 'tired' appearance than fine lines and wrinkles.
Yet just 23 per cent of British women who took part in the survey said they were more concerned about facial volume loss than about jowls, under-eye bags and crow's feet.
Volume loss is predominantly caused by a reduction in fat tissue beneath the skin, but 18 per cent of women thought that sagging skin was mainly caused by changes in muscle structure, with a further ten per cent attributing it to low moisture levels in the skin.
Dr Raina Zarb Adami, medical director of the Academy of Aesthetic Excellence, said that sagging skin and a tired appearance is a "key anti-ageing concern" among patients.
"Whilst many people are concerned with the appearance of lines and wrinkles over time, it is often the deeper underlying changes to the structure and support of the skin which can make a bigger impact on the appearance of facial ageing," she revealed.
The survey also found that 89 per cent of women recognise the importance of a healthy lifestyle, including a balanced diet and protection against UV rays, for addressing facial volume loss.
However, women may not realise that they can also obtain a more youthful appearance by using a natural product such as royal jelly.
Used for thousands of years, royal jelly is produced by worker bees and fed to the queen bee. Fresh royal jelly is rich in nucleic acids, enzymes, vitamins, minerals and vegetable gelatin, which helps strengthen collagen.
Not only does royal jelly help to maintain a youthful complexion, but it may also promote immunity and overall health.
Another product that could be beneficial for those with ageing skin concerns is AlphaGuard Plus, a full-spectrum antioxidant food supplement that helps to prevent premature signs of ageing by protecting our skin against oxidative damage.