Children could be affected by maternal anxiety and depression, according to a new study.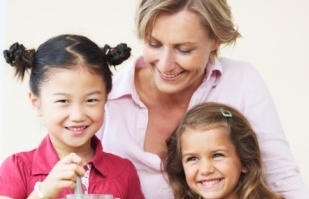 Research continues to be done into how and to what extent maternal symptoms of various conditions can impact on their offspring. Now, new research suggests that mothers' anxiety or depression could in fact transfer to certain behaviours in their little ones.
More specifically, the research from the Tracking Opportunities and Problems in Childhood and Adolescence (TOPP) study and published in the Journal of Developmental and Behavioral Pediatrics showed that such maternal symptoms could result in a greater risk of emotional and disruptive problems among children who are as young as 18 months old.
Such behaviours were even said to transfer in some way into the child's teen years, suggesting that the impact of a mother's depression or anxiety could run even deeper than some may have initially believed.
Interestingly, while the results of the study did not show significant discrepancies between girls and boys, they did reveal that should a girl display problematic behaviour towards the start of the school career when aged around eight or nine years-old, they were more likely than boys to display similar issues in their teen years.
The study also revealed that where a mother presented higher levels of anxiety and depression during the first two year's of her child's life, it put the infant at a greater risk of developing depressive tendencies themselves in their adolescent years.
"The findings emphasise the importance of health professionals spotting mental health problems in the mother and/or the child as early as possible," commented lead author Wendy Nilsen, head of the TOPP study at the Norwegian Institute of Public Health.
"This gives health professionals a unique opportunity to introduce early preventive measures against the development of mental health problems," she added.
What's more, the study highlighted how important it is to track and monitor children and their families in terms of mental health, for which problems can so clearly develop and transfer down the years, in order to better support those at a greater risk of having issues.
Quite simply, Dr Nilsen described this aspect of the research as "important knowledge".
These findings follow other research published recently which suggests that children who have suffered brain injuries are almost twice as likely to suffer from depression.
According to a study presented at the American Academy of Pediatrics (AAP) National Conference and Exhibition in Orlando, which used data from the 2007 National Survey of Children's Health, 15 per cent of children with brain injuries or concussions were diagnosed as depressed, when compared to those who did not have such injuries.
"After adjustment for known predictors of depression in children like family structure, developmental delay and poor physical health, depression remained two times more likely in children with brain injury or concussion," concluded study author Matthew Wylie.
While mental health is an immensely complex field, individuals looking for ways to safeguard it may be interested in taking a complex such as KBG Algae, available for purchase either online or over the phone from the Really Healthy Company.
Not only is the formula a valuable source of nutrients such as fatty and nucleic acids, beta-carotene and high-quality protein, but it also contains the ingredient phenylethylamine which has been proven to help stimulate concentration, improve mental energy and alleviate feelings of depression.
Its efficacy is helped by the fact that it is one of the few complexes of its kind that is able to penetrate the blood-brain barrier.