AlphaCurcumin® Plus is a highly bioavailable curcumin phytosome complex with added Bromelain, Quercetin and Bioperine for comprehensive cellular support.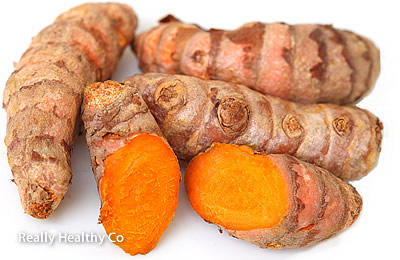 Turmeric is ground from the root of the Curcuma longa L. plant (see picture below), a member of the ginger family which grows wild in the Himalayas and across South Asia. This yellow/orange spice plays a central role in ethnic cuisine in those areas, giving the traditional dishes of these regions their characteristic yellow colour. This spice has been a component of Ayurvedic medicinal systems of India, China, Tibet and the Middle East for over 2000 years.
Curcumin is the primary curcuminoid class found in turmeric. Only 2 to 5% of the turmeric contains curcumin which is the component, concentrated in the rhizome. It is the curcumin that is responsible for most of turmeric's health properties. Curcumin extracted from turmeric is a powerful antioxidant and anti-inflammatory, and overall it is regarded as one of nature's best protector nutrients and body cleansers, and is the subject of a great deal of scientific interest and research.
The big problem with the beneficial compounds in curcumin is that they have very poor oral absorption. As a consequence, impractically large amounts are needed to derive the full benefits of curcumin. A solution to this problem has been found by finely mixing the curcumin with lipids, as curcumin is fat-soluble, and this vastly increases absorption by basically having the lipids carry the curcumin into the body.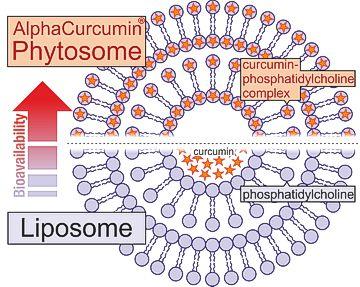 By finely mixing the curcumin either with curcuminoid oils or with a phospholipid medium to produce curcumin liposomes, the curcumin is surrounded by fats. This increases the absorption substantially, but the resulting mixture is not ideally stable and requires a large ratio of oil molecules to curcumin molecules to make it effective.
A newly developed superior method to this lipid approach is to use a proprietary process to directly bond the curcumin molecules with phospholipid molecules in a 1:1 or 1:2 ratio. This produces a stable curcumin-phospholipid complex called a curcumin phytosome complex (curcumin-phosphatidylcholine complex), which is more effective and efficient than curcumin liposome complexes. The curcumin processed in this way has an absorption rate many times greater than that of ordinary curcumin complexes found in most food supplements, and this unleashes the full healing power of curcumin complex.
The Really Healthy Company's AlphaCurcumin® Plus brings 250mg of this highly bioavailable curcumin phytosome complex (sunflower derived phospholipids) together with 75mg of Bromelain, 50mg of Quercetin and 5mg of Bioperine (black pepper extract) in each vegetarian capsule, further enhancing the curcumin's already magnified beneficial effects. The result is one of the most potent curcumin supplements on the market today.
AlphaCurcumin also contains no added binders, fillers or any other excipients — just the full power of undiluted, leading-edge, natural ingredients.
Ingredients: Cucumin phytosome complex, Vegetable Cellulose (capsule), AlphaBlend, Bromelain and Quercetin.
Directions: Take 2 to 4 capsules a day, preferably at mealtimes, or as directed by your health practitioner.
Ingredients per veg capsule
Amount
Contains no excipients such as fillers & anti-coagulants. Vegan product.
Phospholipid Curcumin (sunflower source of phospholipids)

250 mg
AlphaBlend®


Klamath Blue Green Algae, Protease (5000HUT/g), Amylase, Lipase (10,000 LU/g), Bioperine (black pepper extract)

115 mg
Vegetable Cellulose (capsule)
96 mg
Bromelain

75 mg
Quercetin

50 mg
Bulk Discount: Buy 6+ of this product and the unit price will be reduced by 15%.